Thanks again for all of the encouragement on Monday!  Getting sick this weekend was not the end of the world, and I'm trying to remember that.  Initially I was disappointed that things didn't go according to plan.  But all is not lost…YET, anyway!
We're both feeling much better (Aaron is still pretty sneezy, but he is likely also experiencing the allergies that come with the fall season).
We ran 2 and a half moderately paced miles on Monday and our "tapered" version of a hill workout yesterday.  The tapered hill workout felt way too easy to be real.  In half marathon land I would have not been a fan.  But now, it just seemed like we needed to be doing more. Aaron said I had a look of determination as I ran up each set (actually, he said something more along the lines of I wanted to make that hill my bitch).  I guess better late than never to take this marathon seriously? Is this what taper madness is all about?
Since we're putting in less mileage, we are really focusing on eating clean because putting on extra weight right now will not help us go faster.  Dinner is strictly grilled fish and veggies for the next couple of weeks (YUM…).  This weekend was an "I'm sick so I'm gonna eat whatever I want" situtation, plus, we had a few nights of birthday celebration dinners, so it feels good to eat foods that don't make my stomach revolt.  Not that I love fish.  I HATE fish.  But it is a necessary evil. And hopefully it will help come marathon day.
I also picked out my mommy-sponsored race day outfit! I'm going with the Lulu pace setter skirt (aka business in the front, party in the back).  I accidentally picked up the "long" version, but I think it turned out for the best because the shorts underneath are longer and don't ride up. As a rather short person, the long skirt might make me look like a 1950's cheerleader, but at 26.6 miles, I'd rather not be a chaffed up mess. I also chose the race length cool racer back (shorter than the normal version).  I took both out for a test run, and everything seems to hold up! If I bomb on race day, it won't be because of my outfit! Thanks, mom!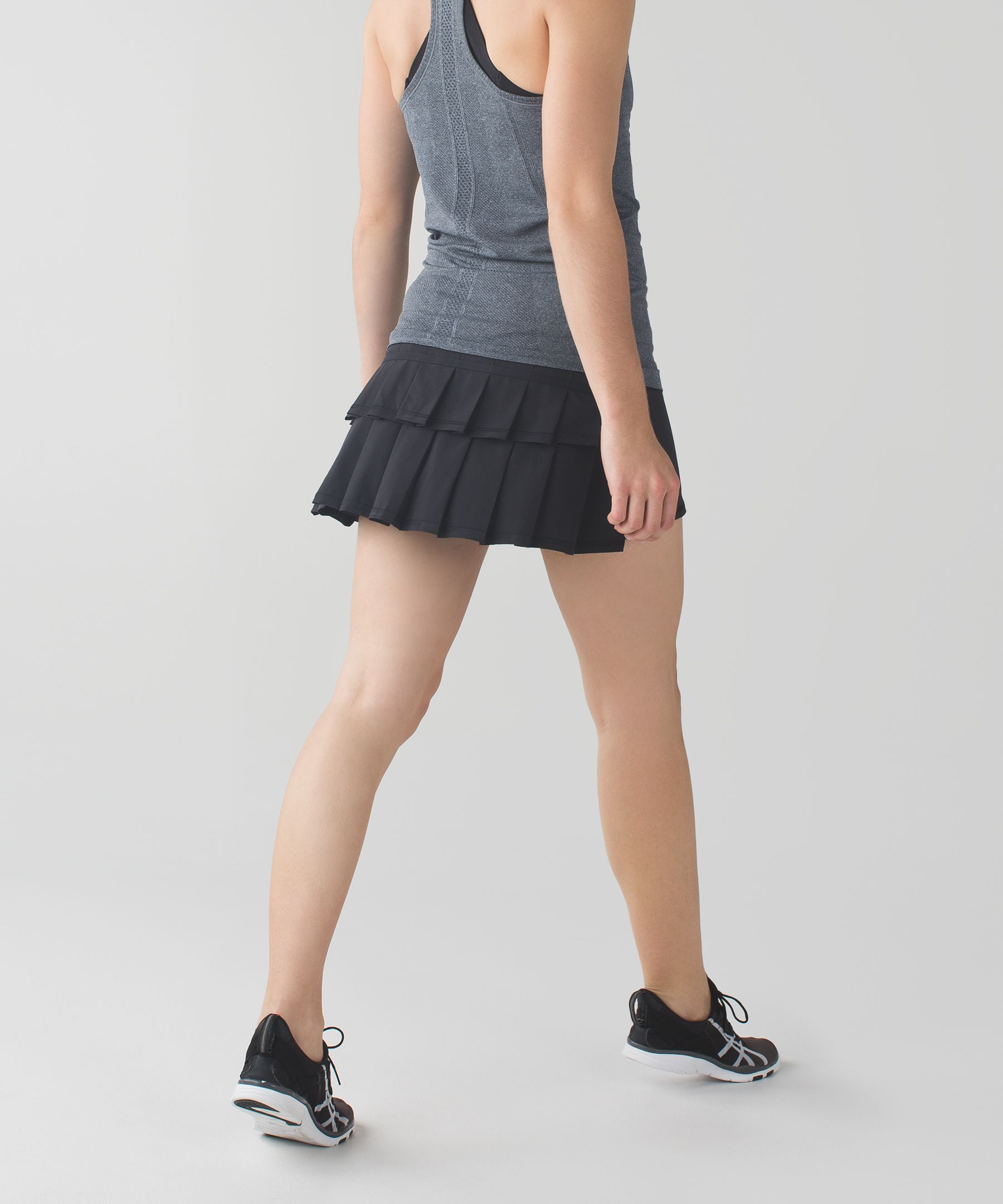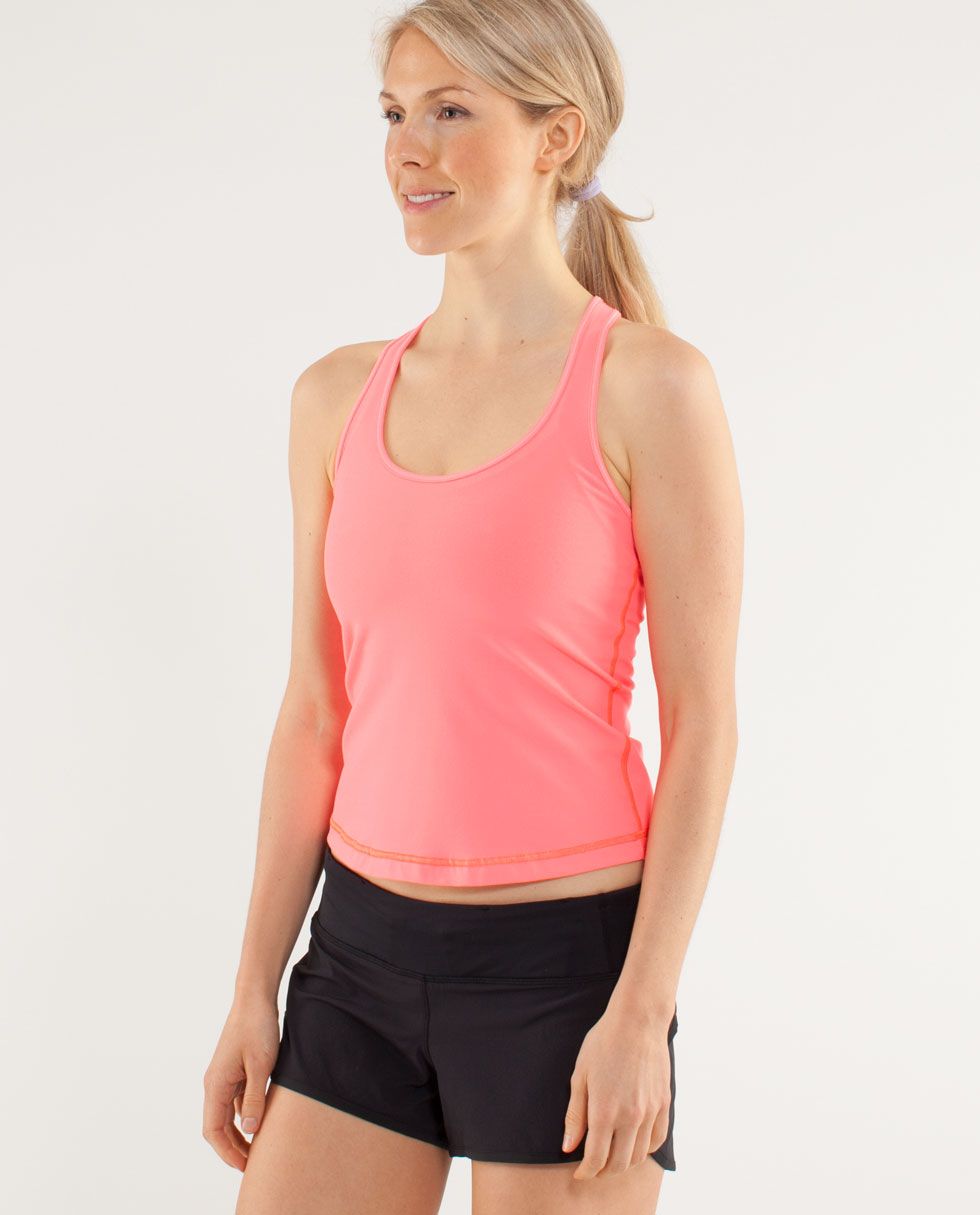 The skirt has 3 gel pockets which I am happy about! In general, I tend to fuel less often than the every 6 miles/every 45 minutes that is recommended because sometimes (always?) squeezing that little gel down my dry throat just isn't even appealing.  My plan is to take a Clif Shot at miles 7, 14, and 21.  They do hand out Clif shots along the course and bananas at some point, but I don't want to risk somehow missing those stations and then not fueling.
In other news, we got our Chicago Marathon "confirmation tickets" in the mail on Monday! This included our bib number and corral information along with everything we need to know about Marathon weekend.  It was one of the most exciting things I've ever gotten in the mail (close behind college acceptance letters)… and I may have sat there and memorized the booklet! I know I'm stressing and freaking out more than a person should over this marathon, but I am really and truly unbelievably excited. This is really happening, and in just a few weeks, for better or for worse, I will have crossed the 26.2 finish line!
I hope you have a wonderful Wednesday!